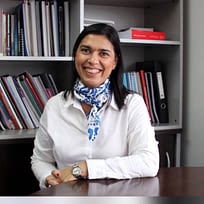 Clinical oncologist and former director NCI Argentinian
Julia Ismael. M.D. is former Director of the National Cancer Institute (NCI in Argentina).
She is a specialist in internal medicine, graduated from UNNE (University of the North East, Argentina), and a clinical Oncologist graduated from UBA (University of Buenos Aires, Argentina). She holds a Master's Degree in Clinical and Pharmacological Research and a Postgraduate in Pharmacoeconomical Evaluations.
As part of her continuous medical education, she has taken several courses in Health Technologies Evaluation, Economical Evaluations, Regulatory Standards, and Clinical Trials.
Between 2001 and 2004 she worked as a researcher in the Clinical Pharmacology Unit of Hospital Italiano, Buenos Aires. She has also been an Oncology Resident Instructor in the Academic Activities Coordination Unit at the same hospital. She has participated as a Principal Investigator in numerous international clinical trials.
In 2005, she began her assistance and teaching activities at Hospital Bernardo Houssay (Buenos Aires Province, Argentina) where she remained until 2012.
For 10 years, she held the position of Head of the Oncology Service at the Medical Corporation of San Martín (Buenos Aires), where she also developed several research projects and was responsible for the coordination of interdisciplinary clinical committees.
At the beginning of 2012, she joined the NCI (Argentina) as Health Technology Evaluation Coordinator for developing Clinical Practice Guidelines, a task she performed until 2016. She is also a GRADE group member.
In 2016, she was designated as Coordinator of the NCI, Argentina, position she held for two years. Julia Ismael MD was the director of NCI between 2018-2020